Happy Thanksgiving, it's good to be thankful, even if you don't have a lot or a lot going on. Thinking positively develops good habits and makes you feel better (even if it is hard, and even if you might not feel a lot better). Here is my favorite piece of nonfiction for Thanksgiving, I am sure I shared it a lousy amount of times. Here are some things to buy that are on sale on Black Friday. Only some of these are on sale.
Asics weightlifting shoes, $329: Not actually on sale, but what are you going to do. Only $400, only made through size 10, only in blue (red is sold out), only worn by the North Korean weightlifting team, only shoe anyone ever needs.
Broz (the name of the guy who owns the gym that sells the shoes) is cool, he's from Cleveland, Jewish I think, and moved to Vegas to set down rebar (which is also what Bryce Harper's dad does for a living), and after awhile opened a gym there, since he was a powerlifter, and then got into weightlifting, then quit his rebar job, then began training national-level athletes, too, though I am kinda sure a couple of them got pinched for Dianabol(1), and one was Italian, and Broz is somehow is the only person in America to carry these shoes.
The PRK team wears Asics because they are a Japanese company; it won't wear anything American, so no Nike or Reebok or Adidas I guess? even though Adidas is German… I am pretty sure the Asics are cobbled by a person and not a robot or machine. They are so well made. Here is the best video of North Korean weightlifters:
They all have really good haircuts—they make the Yankees look like the Grateful Dead.
The shoes look better the more you wear them: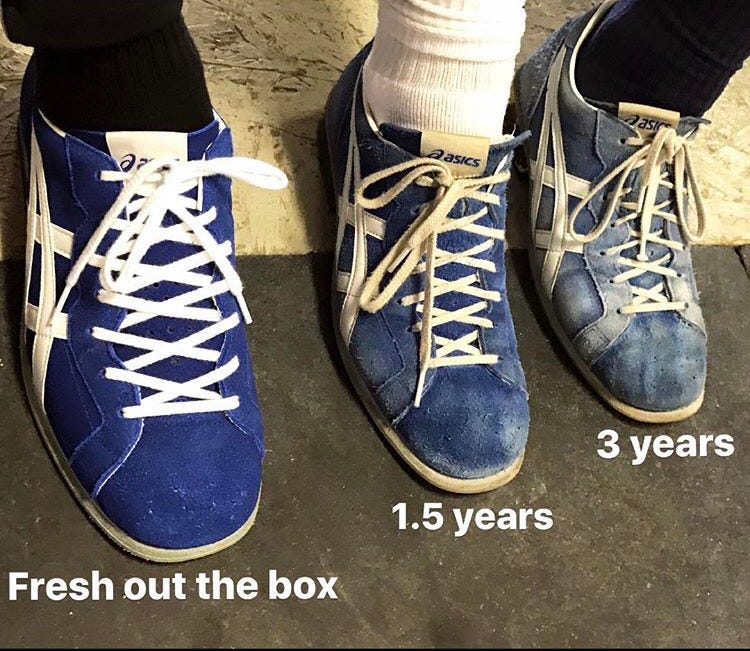 The white is from the chalk you need to keep the bar dry. Anyways I shouldn't own these shoes to begin with, but I do, they're in a box in the shelf above my refrigerator with old fanzines I'm archiving, my birding binoculars, a meat thermometer, swimming goggles and a deadstock pair of Nike Night Tracks. I am so glad I don't give a shit about weightlifting anymore, but these are pretty shoes that transcend the sport, TBH, and would look good with some nice church pants or a pair of Patagonia baggies (long). Plus they make a nice clicking sound when you walk.
complexitygaming
We couldn't be more excited to announce our partnership with the experts of high performance seating.
Player health is very important to us. Thanks to
@hermanmiller
, we are able to provide unprecedented long term sitting support to our organization.
Not into collaborations in general but this is a nice thing to have happened. Current HM is so divorced from anything with affect that is' completely harmless. But the Aeron chair is not especially comfortable, so it would have been a more mature aesthetic decision to, say, color an Eames Lounger Mountain Dew green, or paint lightning bolts on an Anfibio or—better yet—do a Rietveld chair the same color as Kirby. It is disappointing that in a culture where video games are so ingrained, the Katamari series has only been updated about a dozen times. You would think it would be a generational touchstone but it is not. There should be a new one once a month. Also the lawyer game is pretty good. Folks, do we get esports?
Herman Miller Chadwick sofa, $700: I'm trying to stick to jokes here but this is a good deal, 700 for an actual sofa with history and style. Everything on 1stDibs is always so punishingly expensive. A friend was telling me most New York interior decorators operate as money-losing businesses and many of them are married to money managers. I wonder how true that is. It might explain why prices are so high on 1stDibs and why no one yet has bought my Eames compact sofa (on Craigslist today). Maybe my sofa is so cheap and such an incredible deal that it is scaring people off. Yes, that's what it is. It would be cool if Metrograph bought all these couches so viewers could sit on something comfortable while they watch a movie that definitely doesn't have a car chase in it.
Brioni sweater, $600, Ssense: Just about everything on Ssense is on sale but just about everything there is also expensive. Honestly this seems pretty cheap for a Brioni sweater. You'd think they'd be more expensive, but they're not. I mix up Brioni and Canali. I guess both are pretty pricy.
1988 Toyota Hilux on Hemmings.com: There's a continuum from practical to good-looking cars. The most practical car is a Prius or a Honda Fit, both good for gas and don't require a lot of repairs. Both decent to look at. The ones that look nice though can so often just stay in the shop, and guzzle gas, so they are a pain in the ass. Whereas the Toyota Hilux is the only car that solves both problems and curves the continuum like the gravitational pull of a dying star. What are Hiluxes? Effectively, foreign-market Toyotas: pickups and 4x4s. The small Hilux pickups produced before 1990 look great—so do almost all trucks from that era. More than that, they are dependable like nothing else in this world. Da'esh/Isis nearly exclusively drives Hilux because they are so dependable and don't break down in the desert. There was also a war in the 1980s named the Toyota War because all the armies involved drove Toyotas. (Toyota has condemned all this.) The universality of death and the market makes terrorist brand loyalty the most logical expression of consumer value. Top Gear throws them off cliffs and they survive:
They are regularly available on eBay and Craigslist.
Nidhogg record from Nuclear War Now distro: The best distro in the world for guitar music, this Nidhogg record is sick and on sale, and so is like, the whole store. I love NWN and I think there are still a handful of metalheads who signed up for the newsletter when I did the split promo card with them in like 2015. If you are one of them and still reading … I don't know how to say this but I will take a bullet for you. If you're ever in New York, I'll make you dinner. NWN also had a Mortiis book but it's sold out.
Mortiis has the book on sale on his site, but he isn't selling synths on there anymore. He was selling some a couple years ago…he used a Roland JV30 on his first few records but I don't recall if that one was for sale, and there is really no digital trail on the synth sales. Vintage Synth Explorer doesn't have any notable artists using the JV30(2)). Mortiis should get more respect from the analog synth community, but that's not what it's all about. All this evil shit reminds me that in The Insider (directed by Michael Mann), the insider's wife was named Lucretia. What did he think was going to happen! You can't start a family with someone named after a Megadeth song and expect the marriage to last.
Thanks for reading.
Snake
(1) honestly everyone in the sport abuses steroids so that's really not a thing
(2) It's polyphonic
PS If anyone is going to Juan Atkins tomorrow, let me know